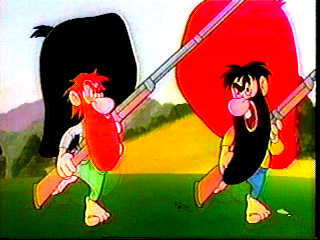 As most of you know, I was brought up in a little town called
Pineville, N.C.
but, as I write this, I'm makin' my stead in the Appalachian foothills of
Ashland, KY.
Now,
both of these places have one thing in common: We've both been called unintellogical
hillbillies
by folks who are too ritzy to have a Wal-Mart® in their made-to-order cities.
And what's wrong with that? I mean, the hills are
necessary
to everyday life. Without them, you'd just have straight miles of boring roads without the
excitement
of hairpin curves, listening to your transmission rattle as you're tryin' to get your car up a 45-degree slope, or praying for guard rails.
Besides, our hills are
popular!
Even the Bible says we're where ya need to go:
"I'll lift mine eyes unto the hills, from whence cometh my help"
(Psalm 121:1).
So ya see? We're good to go! And, though we're really just on the
edge
of the hills - in a place called the
Piedmont -
down in Pineville and pretty darn close to the Smokies on
this
side of the range in Ashland, we're
proud
to be considered billies of the hills.
(incidentally, mentioning "this side of the range" reminds me: I've gotta put the dishes away this morning. They're sittin' between the range and the sink ...)
SOUTHERN BORN
But we were talking about the South (gotta tie this in with the post title

somehow)

so it gives me a chance to do what I promised two posts ago, to

make some sense, ummm,

introduce myself:

Historical rewind:

once, I was a child -- a member of an elite Pinevillean force known as

Hinsons

. Feared by no one, we trampled the grounds of Morrow Avenue and played amongst the wild creatures that roamed the wilderness ...

I was of the feeding group known as "kids". The scrawniest and biggest-snouted of them, I was often corralled for feeding, teaching and disciplining. Very embarrassing when you're 16, but I dealt with it.

Yes, we

were

raised on cornbread, turnip greens, fatback and pinto beans. Our favorite drink was either Pepsi or RC Cola (right ... often with Moon Pies! What

of

it??). We didn't have a lot of money, but our folks could take a single dollar bill and squeeze every

drop

of savings out of it! And we didn't have these fancy

(gag!)

"Wally Worlds", so most of our shopping was done at K-Mart®'s (no, you

always

added that "s" to it!).

Here in Ashland, it's the same, except they drink Coke

(pray for them, okay??).

It's like the Pineville of old, except with a little more concrete ... and a WalMart® ... and somethin' called "dip" (strange word meaning:

"DONT DRINK OUTTA PAW'S BOTTLE!! IT AIN'T PEPSI ...

I mean

,

COKE!!")

And ya gotta

love

the people in this little town! Where

else

can you have (and I swear this is true!) a little old lady, no bigger than a minute but with

years

of 'em under her belt, stop by a local convenience store and, upon seeing a big rottweiler, tell the clerk she wants to call the police but needs to know the number for 911?

Or the man who was just leaving church but couldn't get his wife to come with him? He looked around and found her talking to someone.

"Just a sec,"

she told him. Apparently, he'd heard that many times before, because he bellowed,

"You're always tellin' me that! Honestly, I'm sick and tired of your 'secs'!"

Then he looked around and noticed that everybody in the vestibule had gone silent ... and looking at him. So he tried to save face by looking at her and adding,

"But whaddya say we give it another try tonight, just to be sure?"


Right now, as you know, there's a lot of hot air coming from Washington ... and they're too busy playing the "cootie" game with each other (remember the old days?

"You

don't wanna play with

Johnny! Ewwwww ...

he's got

cooties!!"

And, no, I

don't

know what "cooties" are ... don't

want

to know...) to get anything done.

But I submit to you that if we just get rid of all those loudmouth city slickers and put in a number of women who've slaved over hot stoves, moppin' floors, washing clothes and cookin' supper whilst hickory-switchin'

one

young'un, band-aidin'

another

and listening to another read for school as she's tryin' to get the baby to burp, we'd have our country's problems fixed in

no

time!

'Course, they were better, stronger and more effective than all the Congresspeople in Washington; they were our

mamas!!

Now ... with all that bein' said ..

stay tuned ...