I'm tellin' ya ... those
Zumba
classes get weirder everyday,
don't
they?
Actually, that's a picture of two guys in funny costumes playing something called
"football".
The objective, as I understand it, is for the guy with the "36" on his costume to try and get the football out from "84"s arm and run under an "H"-shaped pole, throw the ball down -- apparently on his foot because, then he jumps around like he's in
pain
...
The Packers' win at
SuperBowl XDVLDCXX+/-
was no big surprise, though I heard a couple of friends
(Steelers' fans, God forgive 'em, or bless 'em, depending on your location)
remark that the Green Team had a few

cheesy

plays at the start of the game (which, judging by its length, must've been sometime yesterday ...). Geez ... why

shouldn't

they? Hey ...it's

Green Bay,

alright? Like, in

Wisconsin??



And what's that state
known
for??
CHEESE!!
So they're
entitled ...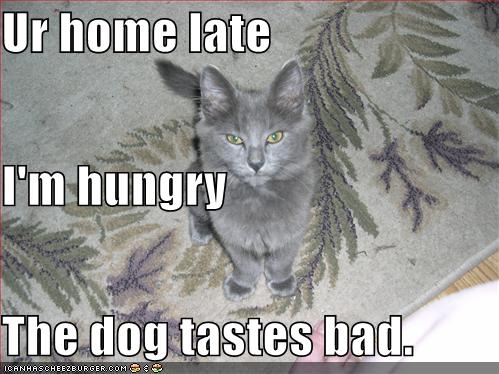 But, alas, watching the Big Game wasn't in the cards for me Sunday night (actually, it was in the TV set ...). Whilst the Steelers were melting by the twelfth quarter, I was busy getting the Super Seven their suppers:
Pate du fois Friskies, Alpo du Jour, Purina under glass
and a peanut-butter sandwich.
I swear, the last one
was
for me until its luscious scent appeared on the SPN
(starving-pet-noses)
radar. It's amazing how a pet can be so lively and slobbery whilst you're trying to watch a TV program, but open the refrigerator and he'll give you a look that'll make you wanna give him all your food, the fridge and donate your house to the ASPCA.
When I finally returned to the TV, the pets' bellies were full, the Packers had won and gone home, and I'd found an affinity for rutabagas, which pets do
not
like ...
GREAT ART


Everybody likes good artwork, but all too often, in order to have just the right pieces to complement
your
house, you usually end up searching through hundreds of prints at various specialty stores.
Then,
if you're lucky to find the ones you want, you
most likely have to drive across town to get them framed properly.
Of course, that's going to cost a
lot
more than you've planned.
But,
now,
there's a simpler way to get the beautiful, quality
art prints
you want -- and for a
lot
less than you'd expect!
But, by clicking on the link you just passed, you'll also find that they'll mat and
frame
them for you as well!
They have a
fantastic
selection of gorgeous prints from which you can choose, and even have a
100% satisfaction guarantee
on every purchase you make (I don't know of
any
other art store that does
that!)
.
So click that link
now,
and get ready to adorn
your
house with beauty!