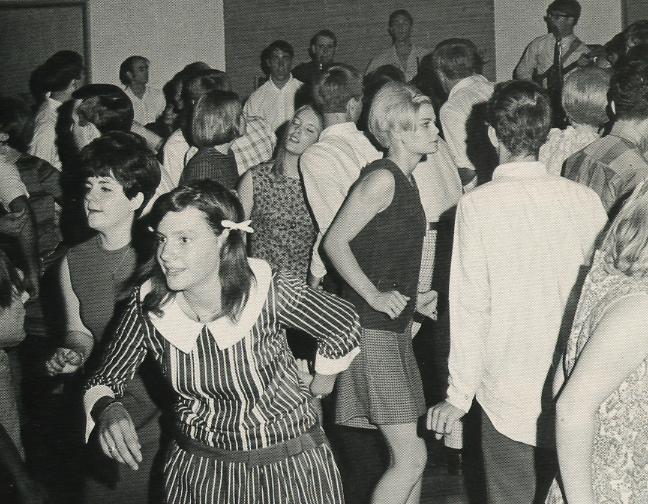 Okay, who remembers their first high-school dances?
Let me refresh your memory: the high-school gym, portable record-player, jitters because you didn't know
who
your teacher was gonna pair you up with??
The year was 1965; the scene, Quail Hollow Junior High School (now they're called
"middle"
schools, like there's a
top
and a
bottom
one somewhere). I entered the Arena of Embarrassment courtesy of my parents, who'd faithfully held the secret that I actually had two left feet. We were told to form a circle around the floor perimeter (which was weird, because the floor layout was rectangular. And these were
teachers
who told us?!?). Then Mrs. Lotta Wurdz would match each girl with a guy who was
totally
un-cool so we could commence the dance.
Nowadays, they call it
computer dating,
don't they?
Now, I already
had
a "girlfriend", but she couldn't make it to the dance ... so Mrs. Wurdz hooked me up with
Modine Farquhar
. She wasn't the prettiest girl in school but, at 6'2 and
very
"sculpted" (think Schwarzenegger), we all
respected
her ...
After a couple of slow dances during which my aching toes were about to resign my feet, the music changed to
Dance, Dance, Dance
by The Beach Boys. Suddenly, Modine started wigglin' and jumpin' like she had a
squirrel
in her drawers or something! I asked her (from a distance) what she was doing and she said it was something she made up. Called it the
Frugatusi
. I asked her (hesitantly. Don't make her
mad,
Chuckie ...) where she'd learned it.
She said,
I saw it on Lloyd Thaxton last week.
Now, this was before I'd met Uncle Lloyd, but, somehow, I just
knew
he wouldn't allow
that
on his show (PS Whenever we watched or talked about his programme, we'd only use his
name
and not
The ... Show
. He really
was
like a relative to us!). She'd seen these done individually (the
Frug
and
Watusi)
and decided to mix them up to something nonsensical. Somehow, I had a feeling she belonged in Washington ...
For some reason, though, after her "dance", the clear blue Charlotte skies suddenly produced a torrential
rain,
and the rest of the event was cancelled. Years later, at an outside gig where I was performing, she was amongst the fans and broke out in that
same dance!
Uh-huh ... started raining
again
within minutes!
Still, all in all, whilst we
all
learned a few steps from watchin' the TV teens on Uncle Lloyd's show, I'm just glad she didn't mix the
Mashed Potato
and
Locomotion
. But, then again, that's what the slow dances were to my feet ...
Mashed Motion!
Stay tuned ...
(PS cartoon © T. McCracken, mchumor.com. Thanks, guys ... And, whilst everything else was all real, the name of the dancing partner and the teacher have been changed. I must protect my remaining feet from retaliation somehow ...)
SHAPING UP FOR THE HOLIDAYS ...
After
all
the turkey, ham and trimmings we had over Thanksgiving -- and realizing that we've got one
more
Big Day to go (Christmas) -- a lot of us are wanting to lose those excess
pounds
we gained while enjoying those big meals.
But, while everyone's looking for a good diet supplement to
help
them lose that weight, there are so
many
of them on the market that we don't know which ones will work the
best
for us.
Fortunately, there's
one
group that's checked out the
best
fat-burners on the market, subjected them to some rigid criteria (in fact,
five
of them!) and found the most effective and safest for
your
weight-loss regimen.
But, besides showing
and
telling you about each one, they
also
give you the lowest online
price
for each.
Believe me, you can save money while you can rest assured these fat-burners actually
work!
So, for a healthier and slimmer "you" this season, just
click here
and get ready to enjoy a more vibrant and satisfying season!