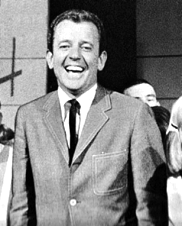 Since he llleft us two years ago, a lllot of peopllle have asked,
Who'llll ever replllace Uncllle LLLL ... and why did he spellll his name with two "LL"LL's?
Wellll, there's a reason for the
second
part of the question: It's what his
mama
calllled him (besides, I've had a number of friends over the years who were named
LLLloyd
and even a coupllle who were named
LLllewellllen
(either as first or as
llllast
name). And nobody
ever
complllained ...
Now, because ... wait: lllemme see if we can cut this down to two "LLL"s and ... waitaminnit ... "LL"s (whew!) so we can get on with the show:
because Uncle Lloyd actually opened the doors for
scores
of entertainers and emcees to come, there
are
those who are much
like
him in their delivery. But, to quote a very
non
-Thaxtonish politician of yore (yore
what??
Sorry ... old joke.
Hadta
throw it in here; timing's
everything)
"Let me make one thing PERFECTLY clear:
THERE WILL N-E-V-E-R BE ANYONE TO "REPLACE" LLOYD EUGENE THAXTON. P~E~R~I~O~D!!!
But there
are
those who, whether because they
learned
a few things from him or are
like
him in their delivery, remind us a bit of Unc:
Jimmy Fallon
-- the
SNL
alumnus who now hosts his own NBC late-night talkfest after
The Tonight Show
, has some of the creativity and zany humour that characterized our Fearless Leader.
And, of course (on a rivel channel), the wildly popular
Craig Ferguson
has literally
mastered
the art of ad-lib, outlandish fun! His shtick includes puppets (rather than finger people), sidebar comments and (can you
believe
this?) even some
lip-synching!
But he's
also
got something that Lloyd perfected: The rare-and-uncanny ability to really
relate
to the person he's interviewing -- thus making the interview
very
informative while, at the same time, relaxing and fun to watch!!
Still,
there was only ONE Lloyd Thaxton, and NOBODY will be able to replace him.
As the old saying goes, he can be
"often imitated but NEVER, EVER duplicated!"
Nonetheless, it's good that TV has these two madcaps -- and, since Lloyd will
forever
be our favourite
Uncle
, I guess we can christen these two
distant cuzzins ...
IT'S TO DIET FOR
As we know, there are
loads
of people around the nation who are trying to lose unwanted pounds and get back into a healthy
swing
of things. Unfortunately, there are so
many
products on the market that promise great results that we're not really sure
which
works the best.
Recently, one of the most popular supplements has been
hoodia
, which is an extract of a South African cactus. Now, it's a bit unconventional because it actually tricks the brain into
thinking
you're full, thus allowing the body to release hormones that'll make you
feel
satisfied.
While there have been mixed reviews as to its total effectiveness, there are thousands who
swear
by hoodia. And, if
you'd
like to try the
hoodia diet pills
, all you have to do is click that
link
you just saw!
You'll not only be told more about hoodia
itself
, but you'll
also
find the
top five diet supplements
and how they stack up as far as
fat-burning power, appetite suppression, customer reviews, safety
and
long-term results
go.
Then these folks go a step
further
and show you where you can get these supplements at the cheapest price
online!
So, if you're aiming toward a slimmer, more vibrant and active
you,
go ahead and click that link
now,
okay??